Below: Maine Artist Tyson M. Weiss
Mission: At Fish in the Garden our mission is to create new, unique and creative home and garden accents. Our design focuses on the visual –cerebral sensations of 'flow' that is most clearly seen by the way schools of fish curve in response to elements throughout an underwater landscape. Using stainless steel and ceramics, we aim to deliver this fluid beauty in its organic forms to your home and garden.
By selecting a fish species found in your area, our designs deliver a regional relevance that so many people are looking for when decorating their interior and exterior spaces. Our designs have the versatility to look as exceptional displayed across your mantel as they do schooling along your perennial beds. Schools of Fish in the Garden unify unrelated elements in your landscape creating a sculptural presence larger than the sum of its parts.
With tails formed to the left and to the right our fish curve in response to landscape and architectural elements, contributing line, color and momentum. Interesting and colorful glazes add life and visual interest to every garden space or living room. Our designs look great in any numbers. No other home and garden accent has this modular quality. We invite you to explore our website or call our Maine studio with any questions.
Tyson M. Weiss
Owner/designer
Recent Press:
2017 Guest artist on episode of 'Maine Cabin Masters' on DIY network
Shawna Coronando 2015 'Fish Garden Art For The Win'
Portland Press Herald August 2012
Martha Stewart August 2010
Unity College January 2014
Rhode Island Newspapers Feb 2011
On the Water December 2013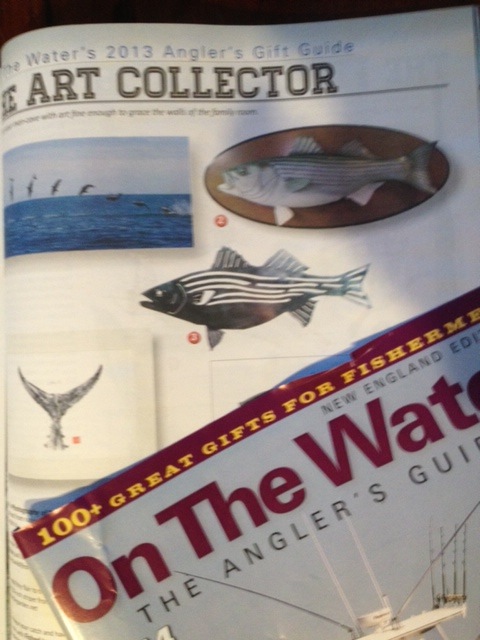 Coastal Living 2013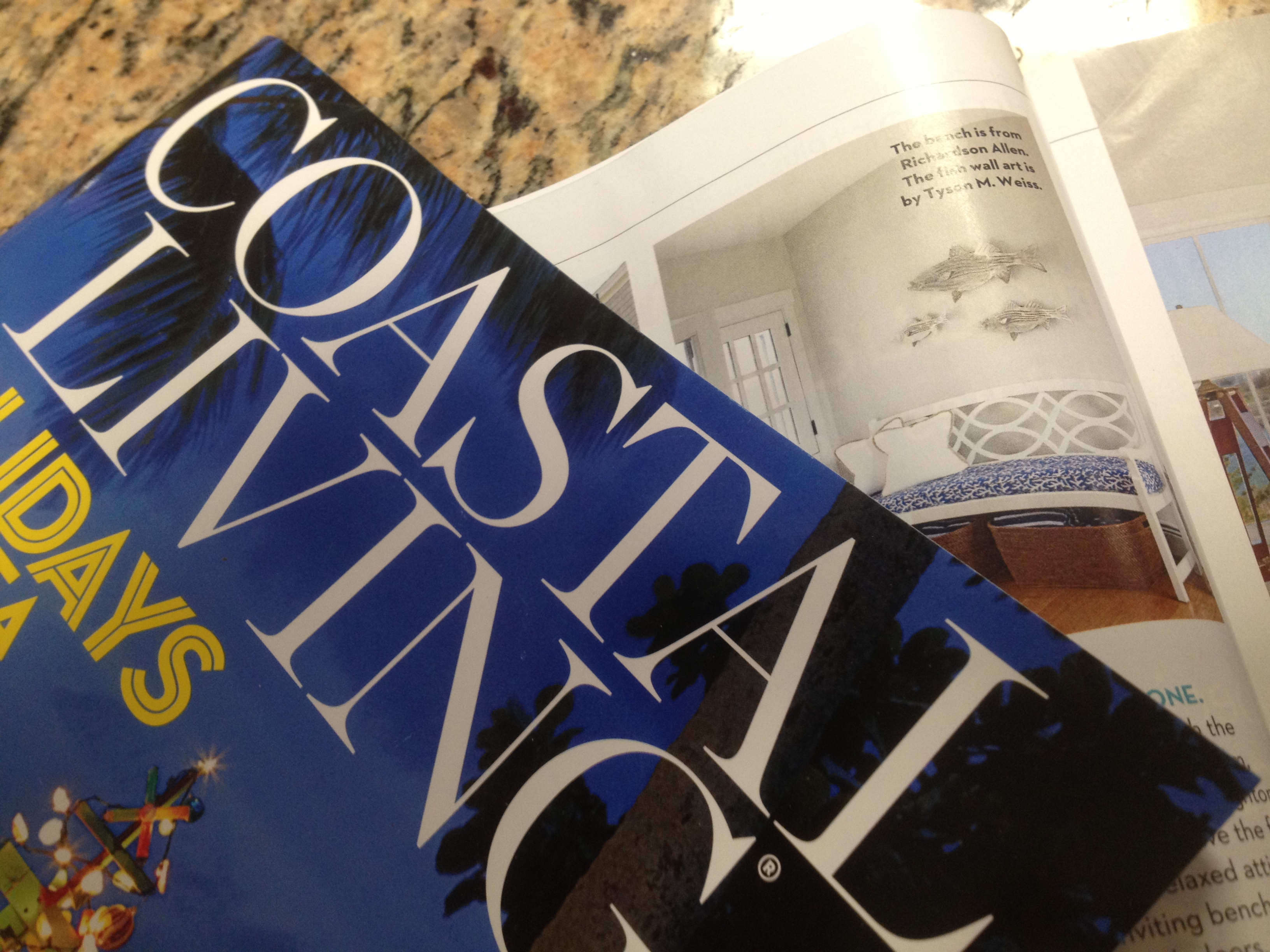 American Society Of Landscape Architects - Peoples Choice Award 2013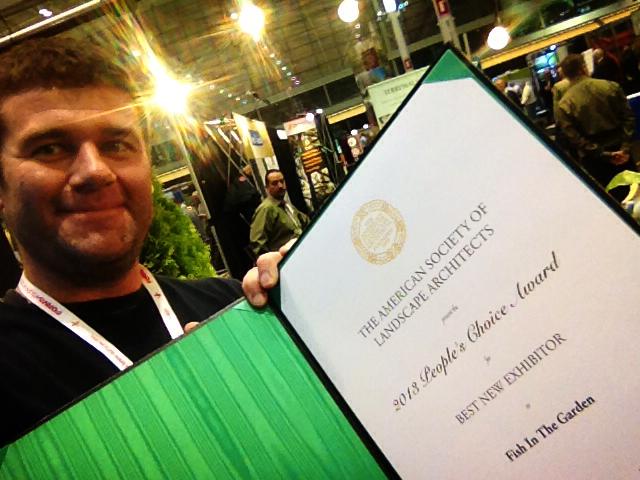 Northwest Flower Show 2016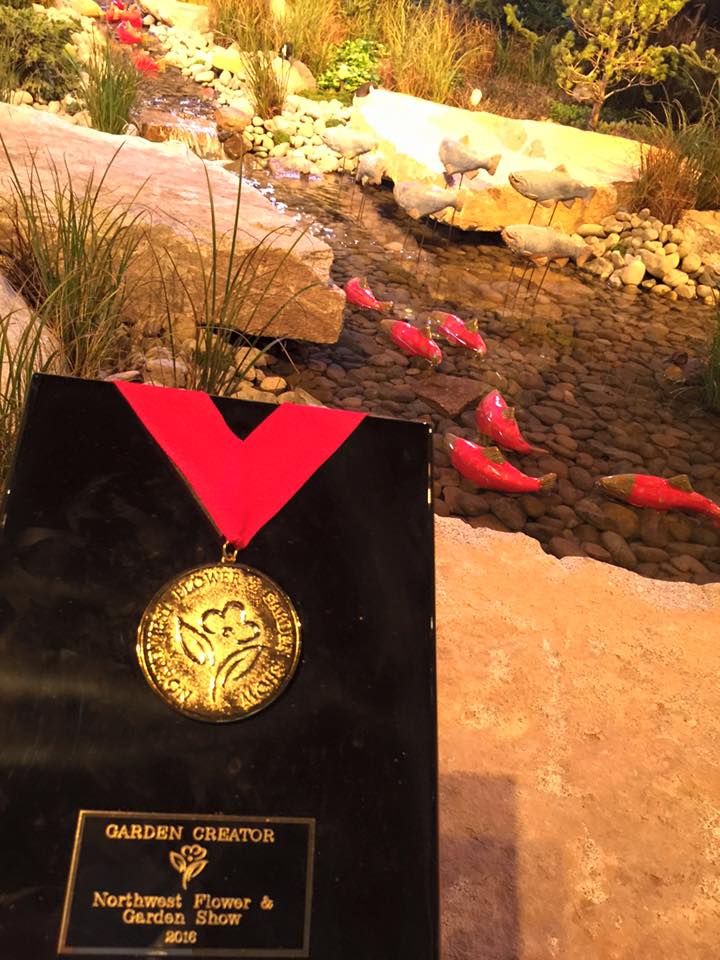 'Modern Family' Valentines Day Episode 2015
Booth at Philadelphia Flower Show 2017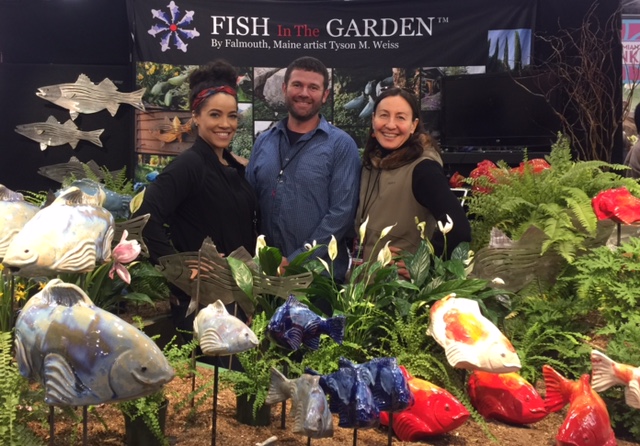 Filming of a 'Made in Maine' episode by Channel 8 - 2016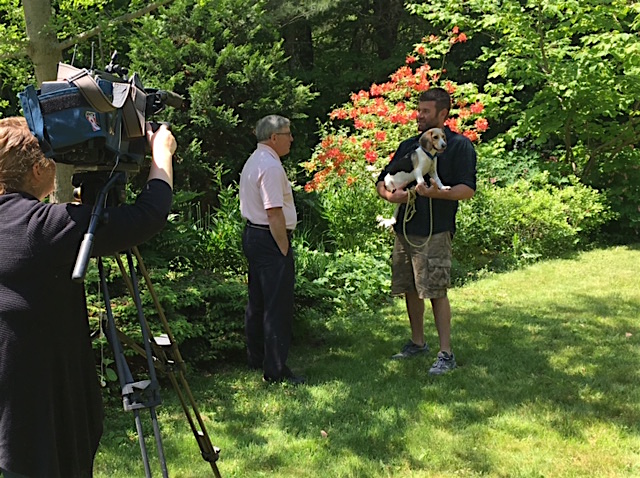 INTRODUCTION
Bring a flow of wind, "water" and harmony to any landscape — or even interior space — with Fish In The
Garden sculptures. The bright, flowing lines of our fish sculptures appeal to our natural and vital
connection with water, land and the many species that co‐inhabit our precious environment. Selecting
sculptures of fish that are native to a particular region adds local flair and relevance to any display. Our
graceful creations will harmonize all elements of a landscape or room, creating a sculptural presence
that seems as dynamic and free‐flowing as water.
VERSATILE OUTDOOR ART …
The best garden design elements are elegantly responsive. Dynamic arrangements of sculptures provide
a feeling of tranquility, peace, unity and community to landscaping. The visual effects are soothing, yet
the design possibilities provide exciting transformations.
… AND INSIDE, TOO
When not "swimming" along perennial beds, our sculptures can immediately transform any indoor
space into a soothing aquatic environment. Display them along a fireplace mantel, a feature wall in a
home, or even in a huge office lobby or atrium. We craft a size and school for every scale.
A PLEASING PALETTE
Dazzling displays of color — luminous cobalt blue, fire orange, dabbled whites, gleaming orange spots,
piercing silver, sparkling glazes — all contribute to the appearance of visual interest and movement to
every garden space or interior room.
THE GARDEN AS PARADISE
With tails formed to either the left or the right, Fish In The Garden sculptures express themselves in an
artful "language" that conveys motion. It's easy to "school" them to perfectly match the shapes of
diverse landscapes and architectural elements. Channel the fish around a rock, through plantings ... and
back out again. Our sculptures — brushes, if you will — bring out the artist in every gardener or
decorator, and inspire every onlooker to gaze in childlike wonderment.
MODULAR COMPONENTS
Our fish designs look great in any number. No other garden, home or office accent possesses this
custom modular advantage. New designs are continually in development, enabling "aquatic" gardens to
evolve — and delightfully surprise — over time.
Fish In The Garden AS A WATER FEATURE
Fish In The Garden provides the ultimate advantage of a "water feature" without the maintenance and
expense. Create the intimate feel of swimming with a school of fish in their underwater habitat. Follow
the delicate curves of the fish as they appear to move around gently swaying grasses and flowers.
Delight in the magical underwater illusion revealed above the earth. When sunlight hits the sculptures,
shafts of light shoot upward as if you were standing alongside a stream or river.
THE MARKET NICHE
Our sculptures are exquisitely crafted of a variety of high‐quality materials. They are moderately priced,
somewhat above low‐end polymers and plasters, and well below expensive garden sculptures of stone
and metals. They're even more affordable than some small shrubs and trees.
PRODUCT DESCRIPTION
Every thoughtfully designed component in the "school" reflects the hand of the artist. The sculptures are
hand‐sculpted detail and hand‐painted. No two are exactly alike. Ten years of experience has evolved a
proprietary process to meet high demand and yet preserve our founding vision. There is no mass
production.
PRACTICAL CONSIDERATIONS
Installation ‐ Installation in the garden is as easy as pushing two stakes in the ground. For metal wall
sculptures, a specially‐designed 1‐inch hook positions them off the wall to allow light to play off the fish.
They're as easy to mount as fastening a nail or screw into the wall.
Ceramic ‐ The colorful and delicate‐looking ceramic fish are made from sturdy stoneware clay and fired
to around 2,200‐degrees Fahrenheit, a process that makes them able to withstand even Maine's subzero
winter temperatures.
Metal ‐ Heavy‐gauge, hand‐cut stainless steel weathers the elements beautifully. In the summer,
they
shimmer with life and, in the winter, they form an organic partnership with the snow and ice.
Three is the magic number for creating a visual sense of movement in the landscape. Fish In The Garden
artist‐designer‐founder Tyson Weiss explains: "One is a fish on a stick. Two is cute and romantic. Three
and more will create the flow."